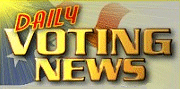 The Daily Voting News was compiled by John Gideon of Voters Unite for the Brad Blog.

Last month, after suddenly falling ill, John passed away. For the full story, CLICK HERE!

The Daily Voting News is a comprehensive listing of reports each day concerning issues related to election and voting news around the
country regardless of quality or political slant. Therefore, items listed in "Daily Voting News" may not reflect the opinions of the Illinois Ballot Integrity Project, Voters Unite or the Brad Blog.

Visit the DVN Archive


November 5, 2008 Efforts of the Illinois Ballot Integrity Project to place "Clean Elections" referenda before Chicago voters paid off in a big way on November 4th. Three advisory questions were on the ballot in a number of Chicago Precincts. All passed with substantial majorities with Public Financing of Elections achieving a 71.5% approval and Campaign Finance Reform to limit contributions getting a "Yes" vote from more than three-fourths of voters. A proposal to make Paper Ballots the only official ballot in Illinois also passed with 61.6% voter approval.
In each case, voters agreed that the Illinois General Assembly should enact legislation to implement IBIP recommendations. To view or print the official Referenda wording and the unofficial results in PDF format, CLICK HERE.
IBIP has already received assurances of support from key legislators who have introduced and will cosponsor enabling legislation for all three propositions in the 96th General Assembly. The Illinios Clean Election Act has been introduced as HB733.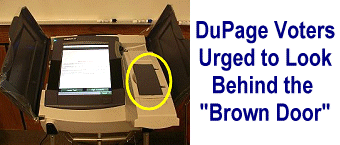 October 20, 2008. DuPage County Early Voters are urged to "Look Behind the Brown Door," when voting to ensure that the printer on their Premier Voting Solutions (Diebold) TSx touch-screen macjine hasn't jammed, and also to verify that their choices have been accurately recorded on the Verifiable Voter Paper Audit Trail (VVPAT). Pollwatcher reports during Early Voting in DuPage County indicate that the infamous "Brown Door" is apparently being closed by pollworkers, thus obscuring the VVPAT from voter scrutiny.
| | |
| --- | --- |
| With the TSx touch-screen especially prone to jamming and other printer errors, Early Voters ought to be especially careful to see that their choices are being properly recorded on the VVPAT and that the printer is working correctly. Odds are, some voters may see jams like the one illustrated at the right. | |
This unusual characteristic of the Diebold-manufactured electronic voting machines (other vendors don't have a similar "feature"), coupled with the small print on the VVPAT [toilet] paper roll seems designed to inhibit voters from subjecting their votes to verification. The problem first surfaced in the runup to the 2006 election and hasn't been fixed in the interim.
For the complete story on what's "Behind the Brown Door," visit BradBlog.com. (Photos courtesy of BlackBoxVoting.org)

| | |
| --- | --- |
| | UPDATE: May 26, 2009. By voice vote, the House rejected concurrence with Senate Amendment No. 1 of HB 85, the Internet Voting Commission Act, which has been referred back to the Senate. The Bill has been placed on the Secretary's Desk where it joins four other non-concurrences. |
Senate Amendment #1 to HB 85 drastically changed the size and composition of the Internet Voting "Commission" which would be established under the Act by reducing the Commission from twelve members, equally appointed by the majority and minority in the General Assembly to six members, with two-thirds of the members appointed by the Speaker of the House and President of the Senate.
The "Commission," which really isn't a commission at all, would have a 4-2 supermajority of Democrats who appeared determined to fast-track HB 85 through the Senate where the Bill was referred to the Elections Committee, the amendment offered and passed and a second reading of HB 85 accomplished - all within 36 hours. Within another 24 hours, the Senate had passed HB 85 and it was back in the House. The inordinate "rush to judgment" for HB 85, however has been stalled, largely through the efforts of IBIP and members of the public mobilized and motivated by IBIP.
More information about IBIP's Clean Elections Campaign, click this LINK or the button below:
More Information on Internet Voting . . .


Watch: Stealing America . . . Vote by Vote
This important documentary film (89:40) is now available online in reduced and full-screen versions:


The Illinois Ballot Integrity Project has established a new Speakers Bureau to provide organizations with an opportunity to help inform their members about election integrity issues. Find out More . . .
| | |
| --- | --- |
| | NEW! We've added additional functionality to our site - you'll see a new navigation button labeled "Events" which presents the former "Calendar" page. The "Calendar" button now displays the NEW IBIP Events Calendar where you will |
see a monthly calendar with notices of events and links to additional pages or information. Click on a date to get more information.

Members of the Executive Committee may post events to the calendar. If you have an event you'd like to have posted, please contact a member of the Committee. IBIP events will continue to be displayed here.


Invent a Bumper Sticker . . .. Here's your chance to use your imagination. See the best of the slogans already submitted - Click on the sticker below.

DON'T VOTE EARLY,
DON'T VOTE ABSENTEE,
AND DON'T TOUCH THAT TOUCH SCREEN
October 11, 2008. Chicago How to protect your votes from going AWOL The Illinois Ballot Integrity Project offers this advice to voters:
1) Vote on paper, not on a touch-screen.
2) Vote in person, not by mail.
3) Vote on election day, not earlier.
4) Report election abuses. (See the list of hotlines and Blog the election by following the links in the right-hand column of this page - CLICK HERE)
Ballots cast on paper, on election day, in your own precinct, under the watchful eyes of your fellow citizens are less subject to loss, damage, or alteration than ballots that spend more time out of public view.
Touch-screen machines are particularly prone to malfunction. Though they are designed to produce a paper receipt for backup, this safeguard is deficient.
Receipts rarely get used to check the machine count.
Most voters do not confirm their receipt.
Many receipts turn out to be defective.
A machine's data and receipts can be replaced wholesale once the machine is out of sight.
Protect your votes from going AWOL. Vote in person, and ask for a paper ballot. See the IBIP press release.