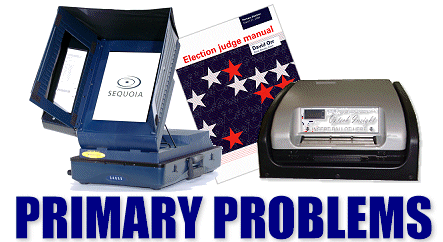 Following is a listing of reported and documented problems that occurred during the Illinois Primary Elections on March 21, 2006. We are currently assembling and ediing data and the list will be expanded during the next week. If you have information about problems that surfaced on March 21st, please send an e-mail with details to problems@ballot-integrity.org. Your privacy is respected. No names or e-mail addresses will be included without your specific request. Use these links to jump to a section:
NOTE: A constant theme throughout these reports will be machine failures in Chicago and Cook County, involving both the Sequoia AVC Edge DRE (touch-screen) and the Sequoia Insight optical scanner. This should have come as no surprise to election officials when considering the results of the tests conducted on February 14 & 15, 2006 at Sequoia's Oakland, California headquarters by the California Secretary of State's office. Despite machines provided by Sequoia's staff, six of 100 touch-screens (6%) failed during the 5.5 hour test. Of greater concern was that 22 of 50 optical scanners experienced a total of 28 errors (primarily jamming), a failure rate of 56%, involving 44% of the machines. No wonder these machines failed throughout Chicago and Cook County in 13 hours of in-precint use when they couldn't perform satisfactorily in Sequoia's own shop. Report


Chicago and Cook County. At noon Wednesday, Chicago was missing 252 memory cartridges, 93 from machines that scanned in paper ballots and 159 from touch screens. County officials couldn't find 162 memory cartridges from suburban precincts--68 from optical-scanning machines and 94 for touch-screen balloting. Brad Blog


1. Chicago, Ward 42. (Voter) Visited the Cook County Board of Elections. There were about fifty people complaining about the same thing. (Voter Application not in book at precinct) I received the following information:
1. There were hundreds of complaints from the 42nd Ward (my ward), but more from all over the county. Think about that - how many people do you think that were not allowed to vote that did not complain about disenfranchisement.
2. Provisional Ballots were sent to all precincts. More were recently sent to the 42nd Ward locations.
3. I was instructed to go back to my precinct and vote by provisional ballot.
4. After I asked about ten times (all the while sympathizing with the person about how hard her job must be today), I was told that there was a foul up in the County and there could be thousands and thousands of problems in Cook County Precincts.
So, I schlepped back to my precinct, waited another hour in line, had to talk to the same Mensa Candidates about my voter registration (I had my voter card, for pete's sake!) - the best part was when the judge asked me if anyone in the voting area could vouch for my residency and about twenty people shouted at him that they knew me and to give me a damn ballot. FINALLY, after about three and a half hours since first attempting to vote, I was able to vote by provisional ballot. There were about ten people around me that also had to endure the same crap to vote by provisional ballot - all claimed to be registered voters and residents. One was the Condo Association President of the very building that we were in, yet the judge wanted more proof.
2. Chicago, Ward 33. (Election Judge) I became an election judge for the first time for today's primary as part of the interest by Illnois Ballot Integrity Project to know how the elections are run, particularly concerning the electronic touch screen machines and the opti-scan machines being used throughout Cook County. I was a judge in a two-precinct voting place in the 33rd Ward of Chicago. Here are some excerpts from a report I posted to the IBIP list. The total report includes all kinds of irregularities. If you want a copy of that, let me know at NealBetty@aol.com
I was amazed what a poorly organized and managed mess the election was... I thought we actually did well handling the electronic machines during the day, but we suspect that the counter on the touch screen machine failed, and is why 24 votes were lost somewhere (out of some 128, I think the total was).
On the two opti-scan machines in this two-precint polling place, and the one touch screen machine, at one point in the morning, all of the three were down. It took a techie to come, a couple of times, to get them back up and working which they then did for the rest of the day.
Now to give you a relatively summarized and brief account of some of the key points in the day.
First, the opti-scan in our precinct kicked out undervotes, even tho the election handbook and newspaper reports said that would not happen. Later on during the day, this did not always happen. But it showed the machine to be somewhat arbitrary and erratic.
Forty-five minutes after the poll opened at 7, The electronic touch-screen machine's paper roll stopped functioning. Nothing would record on the paper roll. For that voter, the machine was shut off, and she was given a paper ballot to be used in the opti-scan machine....
After the touch screen machine went down, no one answered at Election Central for quite some time. Finally, they did say they would send a technician out.
At 9 a.m., our opti-scan machine got stuck and unwilling to accept more ballots. We then put all new ballots in a special ballot box. Election Central said they would send out a replacement machine. At 9:45, the opti-scan machine in the other precinct also went down, tho they managed to fix it somehow, and just marked the ballot that got stuck a spoiled ballot.
Finally a technician arrived and identified the problem with the touch-screen machine as a paper jam. He unjammed it, and it worked for a voter or two, and then jammed again at 10:45. Later , at 1:10, he returned, and installed a different paper roll unit, and said to call again if there were further problems, as it has a tendency to paper jams. He fixed the opti-scan by using a pressurized can of air to blow out whatever was interfering with a sensor or whatever, and that machine began to work again...
At 2:40, our opti-scan stopped again. One of the high school judges solved the problem by lifting up the top, and pulling a stuck ballot out from the bottom. It began to work again. At 5:30, the replacement opti-scan machine promised at 9 a.m. arrived, but the techs took it back when they learned that the one we had was then working ok.
The wrap-up at 7 was ... chaos.... Somewhere in the consolidation of votes from the opti-scan and the touch-screen machine, 24 votes were unaccounted for.
It is clear that the government does not take the issue of running the elections that seriously. They give minimal training to judges, and then expect them to work a 15 hour day for what amounts to minimum wage. Of course, now with the mandate from the federal government, millions are being spent on machines and other equipment that does not necessarily work that well and is prone to manipulation and fraud. We have a way to go to achieve Ballot Integrity.
3. Chicago, Ward 49, Precinct 34 - Approx. 4pm. (Voter) Touchscreen was not working. Only paper ballots were provided. Election judge took the paper ballot from me and entered it in the machine without the covering for privacy. I was also asked for identification immediately upon arrival.
4. Chicago, Ward 33, Precinct 22. (Voter) The touch screen machine in my precinct was not running. I was there 1 hour after the polls opened and they hadn't been able to get it running. We used the oversize optical ballot. I admit i'm distrustful of these machines. But since HAVA was written by the machine manufacturers it seems clear the whole move to electronic voting is costing WAY more than the old method ... and the same companies who wrote the law are getting rich. Not to mention the fact that the counting process will cost a ton.
We really shouldn't have mandated these things across the country until we were confident they work. I'm really not. Electronic voting does make sense. But these machines aren't cutting it yet. We need to change the law and stop this mandating of unproven technology.
Ahhhh America.
5. Chicago Ward 19 Precinct 38 (Voter) At approximately 12:50 PM - After I finished the ballot, the official pointed to the scanner (which I did NOT inspect), saying it was broken and the technician was underway. She showed me how to place the protector sheet over my ballot and slide the ballot into the large contraption at the end of the table--a closed metal box standing about as high as an adult. I told her that I was aware that I had undervoted; she explained that there is a problem ONLY if the ballot is overvoted.
Everybody was polite and helpful.
6. Chicago. We were voting in ward 50, precinct 32. (Voter) I voted this morning and there were 2 issues:
1) Mine and my husbands's ballots were not returned to us even though we under voted. We planned to under vote, but no one asked us about it.
2) My husbands's ballot took 5-7 attempts to be read by the machine.
We were using the paper ballots at 7:15 am - Thank you.
7. Chicago Board of Elections (All) CBOE e-mail box was full:
From: MAILER-DAEMON@prodigy.net
Date: Tue, 21 Mar 2006 11:27:03 -0500
Subject: Returned mail: Problems with ballot
User's mailbox is full: (cboe@chicagoelections.net)
Unable to deliver mail.
8. Chicago, Ward 40, Precinct 12. (Election Judge) The problems we encountered were: The Optiscan machine had a faulty cord. The machine disconnected spontaneously and we discovered the problem by accident. Not sure if the one vote on the machine prior to the disconnect was saved. We had no further problems after jiggling the cord to connect the machine and making sure no one bumped it.
No disabled person came in to use the touchscreen machine. Every one who had some kind of difficulty or not wanted the paper ballot. No one used the touchscreen until a judge began asking them to use it.
When the tape from the Optiscan was printed out it said there were 3 write-ins but no write-ins could be found on the ballots.
We were supposed to get our absentee ballots to enter them into the Optiscan but they never arrived.
I noticed that most people did not have any trouble using the hand-marked paper ballots. A few people, about 5 or 6 to my knowledge, came out of the voting booth to ask for further clarification of what they were to do. We had 6 spoiled ballots from errors. I did not see more than two ballots rejected by the machine from over-voting.
A disadvantage of the touchscreen is that judges would not know if someone is having a problem and could use some help. They have to figure it out on their own or from the video.



1. Evanston Township - Ward 4 - Precinct 2. (Election Judge) Unable to open polls with optical scanner. Printer tape was spooled around the spindle. Cleared jam and reset to print AM Zero Tape. 12 ballots placed in bin while jam cleared (read later). First two ballots through the scanner badly mangled. Problem was a power cord blocking ballot slots. Relocated cord, fixed problem. Early votes delivered late (two deliveries) two early votes missing from list - never delivered as votes cast at Cook County office were not consolidated. Scanner may have had calibration problems as about a dozen ballots were rejected as "defective" for no apparent reason. At closing printer tape on HAAT had to be hand-guided to prevent jamming while precinct totals were completed. Total votes - 226, 7 (3.1%) on DRE.
2. Evanston Township - Ward 8 - Precinct 4. (Voter) Sequoia AVC Edge booted with error message. Tech arrived 2-1/2 hours later - could not fix - DRE down for entire day.
3. Bremen Township (Oak Forest) Precincts 64, 76, 79 and 89 (Election Judge) I was an election judge in suburban Precinct 79, and while our machines worked during the day, it was after the polls closed that we discovered the sole machine (for 4 precincts) fall apart (HAAT/Card Encoder that combines and transmits results) while trying to read the cartridges. After an hour on the phone with downtown they told us to bag the machine and cartridges and take it to the receiving station.
The next day all the local news was reporting County Clerk David Orr and Sequoia spokesmen blaming the judges! I mananged to get interviewed by WBBM-AM 780 to correct that.
And the judges training on the machines? Well, there were over 200 judges at my training and due ot the numbers we didn't get hands-on there either.
We're in big trouble this November.
4. Niles Precinct 81. (Voter) This may be redundant and a few days late, but when my wife and I voted about noon at McCracken school, 8000 East Prairie, Skokie, we chose the optical scan ballots, altho they said the scanner had not been working most of the day. In fact, there were three precincts voting at that location and, as I understood it, none of the scanners was working at the time.
My wife and I had worked for nearly 20 years as election judges (this was the first in all those years one of us was not working as a judge.) Unless they do something about machine reliability, I am fearful we will not be getting honest results in November.
5. Hanover Township, Precinct 23. (Pollwatcher) Right from the start - the scanner rejected the first ballot and then gave a error message. Precinct Judge called for technical help at 6:15 a.m. Technician came at 4:30 p.m. and tried for a few minutes and said he had no extra machines, and we would have to take all ballots for tabulating to Hoffman Estates Village Hall after polls closed. He also said he had many other problems with machines. At 5:30 p.m. he got a call-back from Cook Co. Office with the same message.
Touch screen seemed to work ok. The judges were really pushing the touch-screens as easy and kept mentioning that they would have all touch-screens for the November election. I repeatedly asked them to give the voters the option of choosing rather than pushing one system on them. The time taken for voting on tc was less than 5 minutes. Only a few periods was there a line. A little more than half the people voted on tc. Total ballots cast was 139 with more than 1,100 registered voters in the precinct. There were no disabled voters. Also, very few people checked the printer record.
I tried to explain the problems with the paper trail on the touch-screens. Fell on deaf ears.
6. Lyons Township. Precinct 78. (Voter) Please be advised that the the touchscreen voting machine at Lyons Township Precinct 78 has been down all day due to a a lack of printer paper for the ballot printer. The election judges also mentioned that the touchscreen machine at a nearby precinct (identified as "the church") has also been down all day. They said they had repeatedly reported the problem to no avail. One mentioned that the phone number he had called twice was never answered. This report as of approximately 9:00 AM.
7. Oak Park, Precinct 32 (Election Judge) The March 21,2006 primary was my second venture as an election judge, this time as a "technical judge" so I had equal responsibility with my two colleagues, another TJ and a "supply judge" for the precinct. We were at least two judges short to start our with.
It was seat of the pants figuring out stuff the entire morning. Our polling station was filled with refregerators and other furniture so we called the central office and waited for over an hour in the morning. We finally gave up on getting any help or instructions and took matters into our own hand. We had to move two refrigerators and other stuff to nearby locations - luckily no one in the building (a federally subsidized senior housing building - The Oaks) complained.
After that it was very high stress, people waiting in line, machines malfunctioning, not being able to find parts etc. Our scanner wouldn't work until after some jiggling of cords and coaxing and our card reader wouldn't transmit regardless of what we did. The level of breakdown of the equipment was not normal and the lack of support from the central office that should have anticipated a very high level of calling was unacceptable. We were calling all morning and almost always got a busy signal. Whe we didn't we got a useless response - such as try some more. No one ever came out to help except a high school student doing an independent study of the elections sanctioned by Dave Orr--who actually was helpful. It is only by luck that we got everything more or less up and running - we would have had no polling station if we hadn't given up on getting a response from the central office and just taken some things into our own hands.
General Points:
1) I have nummerous conversations with folks from Orr's office (including with David Orr) on electronic voting. I have asked:
a) Are you doing random audits (3-5%) using the "voter verified ballots" from the DRE? They have not given me a clear answer. My hunch is that they are not because they have no way of efficiently counting the rolled up ballots on the DRE's (no high-speed scanner such as they have to re-count Op-Scann ballots). If this is true it is a very serious problem that needs to be addressed immediately. I have not heard any reports of the Cook County recount counting the DRE voter verified rolled up ballots. If these are going to be meaningful there has to be a way to efficiently count them and not rely on the DRE printouts of the counts (which have not been verified by voters).
b) I have asked that detailed precinct level vote counts by type of vote (early, absentee, etc.) and voting equipment be put up on the internet so that candidates and the public can see if there are any irregularities. Again no clear response from Orr--this is something that the "National Election Data Archive " (fromerly USCountvotes) has been trying to do nationwide - again without much success. We've fround that in New Mexico for example adding votes together can hide massive irregularities.
c) I've asked for publicly funded exit polls as the "gold standard" for electoral accountability - again no clear response.
2) I tried to vote for an Oak Park Township Green party candidate and could not do so. As there were no paper ballots other than Dem or Rep, we were instructed in training that other parties had to use the DRE machine. However, the Card reader would not accept a Green party code. I called up the central office in Oak Park and spoke to a technician from Orr's office. They had no answer except that "they would send someone over with a Green party Ballot". This was quite unacceptable as no voter should be expected to wait for delivery of a paper ballot from the central office. However since I was a judge, I waited for a number of hours and finally gave up an voted in the Democratic Primary. By close of polling no one ever showed up with a paper "Green Party Ballot". It appears that Green Party voting was not allowed in the 7th CD although part of the CD is in Oak Park - I checked all the other codes listed on the Card reader. The only ones that worked were Democrat, Republican, and Dem Federal only, and Rep Federal Only.
Sincerely,
Ron Baiman, Ph.D.
Vice President
USCountvotes/National Election Data Archive
ElectionArchive.org
baiman@sbcglobal.net
8. Skokie: Precincts 18, 44, and 81: (Pollwatcher) McCracken School. From the opening of the polling place, the scanners for 18 and 44 were not working, and the scanner for 81 would take the ballots but declare them invalid, so they stopped using the scanner in 81 as well. The touch screens were not all operating correctly either. Reps from the board of elections came to the school around 9:00 a.m. but were unable to correct the problem and were going to send other help. In the meantime, voters marked the ballots, which were put into envelopes and stored inside the machines. The machines were fixed at approximately 4 p.m. (I wasn't there at the time), and they fed all the ballots into the scanners at the point. Election judges at those precincts were frustrated by the length of time it took to validate the cards for the touch screen machines and for people to vote on the machines. They said it was a very slow process, an d if the turnout was higher, there would be no way to keep up, causing long waits.
Issues that I noticed:
a. If the touch screen machines are facing into the room, there is no privacy for the voter. The screen, or part of it, is visible. Many polling places had positioned their machines like that, according to what I saw myself as well as reports from others. In addition, when a person using the touch screen machine needed assistance and turned to request help or to allow a judge access to the booth, the entire screen was visible to the room, as well as any selections made during that time.
b. The extra long ballots did not fit on the surface of the polling booth and could be visible to others if the booths were facing the inside of the room rather than the wall.
c. An electio n judge told me that the touch screens were difficult for some of the more elderly voters to use. They had a lot of trouble pressing hard enough on the screen to register the vote.
d. An election judge also said that women's hand cream obscured or compromised the screen frequently, and that they had to constantly wipe the screens down.
e. An election judge also expressed concern about the possible transfer of germs, especially flu germs during the November election, from using the touch screen machines, which could be particularly serious for the elderly.
9. Morton Grove, Precincts 14 and 75 (Voter) The election judges told me that the scanners had been down for part of the morning but had been fixed.
10. Skokie, Precinct 17. (Voter) I am concerned about the paper ballot. You would think you wouldn't need a paper trail with a paper ballot. However, there is no way to tell if the machine is reading the ballot properly. If a person goes outside of the line, it is possible that the machine will not read the ballot correctly. There should be a verification at the time of voting because it is still being read electronically.
Also, the paper ballots were hard to tear off and they would not feed into the machine and my husband had to vote again. I talked to a election judge from another area and she complained about the same thing.



1. Wheaton. (Voter) I went to Emerson School in Wheaton, IL around 2:30 pm on 3/21/06 to vote. I opted to use the opti-scan machine vs. the touch screen voting. Before inserting my ballot into the machine, I looked at the total count screen... it was at 133.
I inserted my card, the machine took it just fine, didn't spit it out/reject it. However, the count remained at 133.
I alerted the officials and they did a quick hand count of the registration forms that had been signed by previous voters. They found that they were off by one. They called in to see what to do and were reassured by whomever they spoke to that my vote would be counted as at the end of the night, they would need to open the machine, count the ballots, and compare to the number on the opti-scan machine.
My question is, do they then handscreen all the ballots? How do they know which one is not counted? This may be nothing, but it makes me very wary and suspicious.



Chicago - Board Counsel Says Evidence of Breach Needed (Sequoia) Chicago Tribune
Chicago and Cook County - A Week Later - Almost All Votes Counted (Sequoia) Chicago Tribune
Chicago - Aldermen: Withhold Payments (Sequoia) Chicago Sun-Times
Chicago - Election Commission May Withhold Payments (Sequoia) WQAD Radio
Chicago - Aldermen Mad About Election (Sequoia) Daily Southtown
Chicago - Election Commission May Withhold Payments (Sequoia) WBBM Radio
Chicago - Chicago Ballot Chaos (Sequoia) American Free Press
Chicago and Cook County - Voting Machine Maker Blasted (Sequoia) Chicago Tribune
Chicago and Cook County - Chicago, County Rip Sequoia Chicago Sun-Times
Chicago and Cook County - New Voting System Needs Fixing (Sequoia) Chicago Tribune
Chicago and Cook County - Ballot Madness (Sequoia) Chicago Tribune
Chicago and Cook County - Ballot Chaos (Sequoia) Chicago Sun-Times
Chicago and Cook County - Chaos at the Polls - Opinion (Sequoia) Chicago Sun-Times
Chicago and Cook County - Officials Blame Sequoia (Sequoia) Associated Press (via The State)
Chicago and Cook County - Vote Snafu (Sequoia) Chicago Sun-Times
Chicago and Cook County - New Machines, Poor Training Slowed Count (Sequoia) Chicago Tribune
Chicago and Cook County - MWRD Candidate Says 50,000 Votes Disappeared (Sequoia) WBBM Radio
Chicago and Cook County - Machine Woes Slow Illinois Count (Sequoia) Washington Post
Chicago and Cook County - Poll Workers Need Training Chicago Tribune
Chicago - Ballot Counting Likely To Last For Days (Sequoia) CBS News
Chicago - Vote Count Incomplete, Process Questioned NBC News
Chicago and Cook County - New machines slow counts (Sequoia) nwitimes.com
Chicago - Long hours, low pay for election judges Chicago Sun-Times
Chicago and Cook County - High-tech voting hits snags (Sequoia) Chicago Tribune
Chicago and Cook County - This Is An Advancement In Technology? (Sequoia) Chicago Tribube
Chicago and Cook County - Voting machine woes force ballot backup (Sequoia) Chicago Tribune
Chicago - Poll Workers Concerned About Accuracy (Sequoia) CBS News
Chicago - Low Turn-out Voting Machine Problems(Sequoia) CBS News
Cook County - Company Cites Several Issues In Voting Problems (Sequoia) WBBM Radio
Cook County - Ballot chaos mars Cook president race (Sequoia) Chicago Sun-Times
Cook County - Cook board president's race still too close to call Southtown
Cook County - County clerk defends election day procedure ABC News
Coles County - Coles County Election Problems WEIU News
Henry County - Henry County spends $260,000 for one voter WQAD News
Kane County - New election equipment tallies big vote of support (Hart Intercivic) Aurora Beacon
Kane County - Voting Glitch Under Review (Hart Intercivic) Chicago Tribube
Kane County - Early Voting Costly (Hart Intercivic) Courier Suburban News
Knox County - Glitches gum up results Galesburg Register-Mail
La Salle County - Technician causes glitch in printed results (ES&S) Ottawa Web Times
St Clair County - Voter Turnout is Low Belleville News-Democrat
St Clair County - Too High a Price at the Polls (Diebold) Belleville News-Democrat
Tazewell County - Processing delayed in Tazewell Peoria Journal-Star
Illinois - Primaries Plagued by E-Voting 'Glitches' Brad Blog


Please read these important Disclaimers
© 2003-2006 - Illinois Ballot Integrity Project - IBIP